In my high school years, I was one of those kids who spent every spare moment geeking out at the school computer lab. The teacher in charge there had a background in software development and was a bit of a nerd himself (thankfully).
Once in a while, a new copy of Microsoft Internet Developer (MIND) magazine would appear in the lab (he'd purchased it). I would eagerly flip through it and attempt to digest its contents.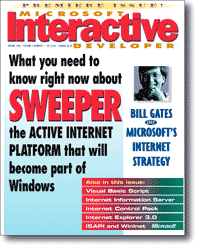 If you've ever have had the privilege of reading one of these magazines, you'll recall that every feature article had a little callout box at the start that said something to the effect of:
To get the most out of this article, you'll need to understand Microsoft IIS, MSMQ and ASP
These articles were very technical, and my teenage grey-matter struggled to grasp the concepts presented. Which is why the callout box proved invaluable to me because at very least I knew what those labels were, which meant my journey didn't need to come to an abrupt end; rather, there were detours that I could take en route to enlightenment.
So I would put down the magazine, seek out some 4-inch thick QUE tome, and wander merrily down wherever the path led for as long as my teenage attention span could last.
Needless to say, I usually didn't last long enough for the chapter numbers to turn double digits, much less get back to the magazine article that I so wanted to decipher. A month would go by, a new magazine would appear, along with new set of keys for me to acquire in order to unlock the wisdom of the "grown-up professionals".
How little things have changed.
Just this week, I stumbled upon Steve Yegge's Tour de Babel. Lo' and behold, a new carrot was presented to me:
All of the greatest engineers in the world use Emacs. The world-changer types. […] the greatest software developers of our profession, the ones who changed the face of the industry.
And that is why, sucker that I am, and despite having spent the last 5-6 years barely getting comfortable in Vim, I am learning Emacs.
My head hurts like hell because of my vim inclinations, but here's hoping over a decade in, I would get a little further than my teenage self.
Have you got a story about how or why you pick things up? Share below, or join the discussion at Hacker News